"They're worth at least the price of a ticket to Marrakech."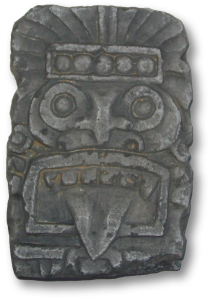 When Indy escapes from the Hovitos after Belloq snatches the Golden Idol away from him, he doesn't leave empty handed. He returns to Marshall College and hands over two relics from Tec'na'al, the site he explored before finding the lost temple of the Chachapoyan Warriors.

These pieces feature two prominent props from the opening scene of Raiders of the Lost Ark. The larger of the two artifacts shows the hideous stela (carved monolith) that frightens some of Indy's porters away. Measures about 5" x 3" (13x8cm).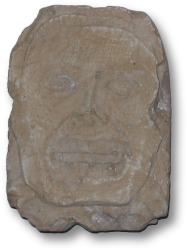 The smaller piece is a low relief version of the Golden Idol itself. Measures about 4" x 3" (11x8cm).
Both replicas cast in a special mixture of resin and sand giving them the texture and weight of real stone. They are then painted in several layers of acrylic paint and aged to given them the appearance of ancient artifacts.