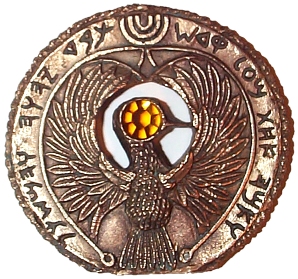 One of the most important props featured in the Raiders of the Lost Ark, the Headpiece to the Staff of Ra was able to pinpoint the final resting place of the lost Ark of the Covenant. When the headpiece was placed in a particular position in the Map Room, the sun would shine through the crystal and reveal the location of the Well of the Souls, the final resting place of the Ark.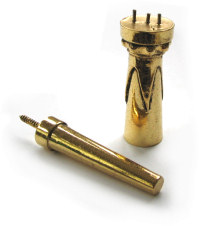 This replica is cast in solid bronze, polished to a beautiful luster, and mounted on a custom metal fitting. This the only reproduction that can actually be mounted to a staff, just like the original prop. In the centre of the headpiece is a genuine Austrian crystal of the finest quality, made by Swarovski: [I made one using an amber crystal and one using a red crystal (as seen in the Map Room scene)]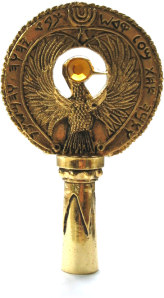 The three holes at the bottom of the headpiece allow it to be attached to this custom metal fitting shown to the right which can be attached to a 1/2" rod. The bottom fitting (which slides into a hole in the floor of the Map Room) can be screwed into the bottom of the staff. The brass chain has two semi-precious stones, one Chinese coin and measures about 34".
Shown below are three different cast versions; (from left to right): Gold Plated Zinc Alloy, Polished Bronze, Antique Bronze Plated Zinc Alloy (all shown with amber crystals).