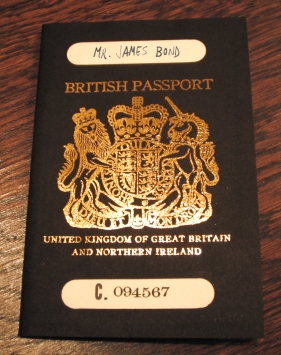 I have created several versions of James Bond's passport, based on both the films and the books.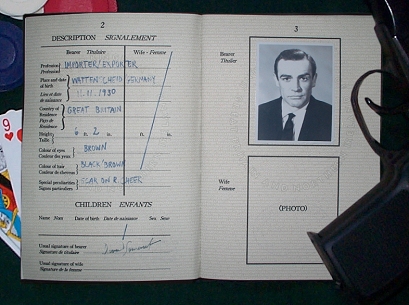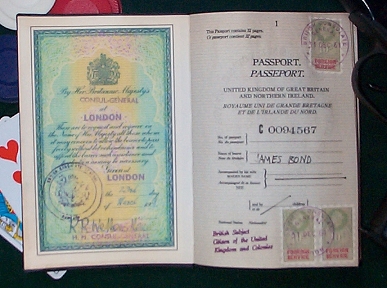 Carefully replicated from actual vintage passports, this reproduction contains 32 pages, hand-bound with the unique black cover of this era of passports complete with a genuine gold foil seal and lettering. The first page contains authentically reproduced approval stamps from the Consulate General of London.

The first version (shown above and the left) follows James Bond's travels as Sean Connery from 1962-1967 (from "Dr. No" to "You Only Live Twice"), containing over twenty different visa stamps.


This second version, also showing Connery as Bond, uses one of his aliases, Mr. David Somerset, an Importer/Exporter who travels on the Orient Express in "From Russia With Love". This passport only contains the visas from the first two Bond films, uses a different photo of Connery and has different information than the standard Bond passport.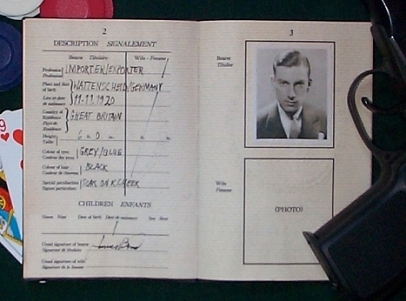 This third version shows Bond as his creator, Ian Fleming, envisioned him. Following the timeline of the original stories, this passport follows his missions from 1951-1961. Fleming described Bond as looking like a young Hoagey Carmichael (shown to the left).

This very extensive passport contains around forty visa stamps from over a dozen different countries.

Each passport is hand made and aged using several techniques. The pages have a custom printed background and each page has been carefully type set for excellent clarity. Feel free to e-mail me with any questions about this or my other custom passports.

The reproduction above, featuring Timothy Dalton as James Bond, is based on more recent Visitor's Passports which are issued for one year as a temporary passport into limited countries in and around Europe.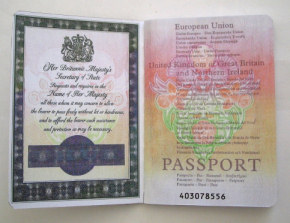 More recently, Bond required a new alias for his travels during Casino Royale. He assumed the identity of Arlington Beech, an independent gambler. Copied carefully from the original prop seen in the film, this replica is accurate down to the last detail.
The cover is die-stamped onto a plastic-coated burgundy card stock just like the current EU/UK passports.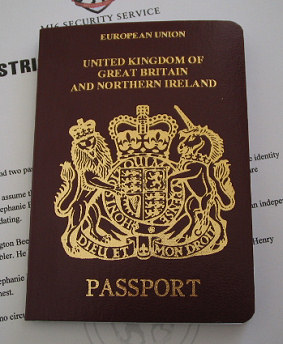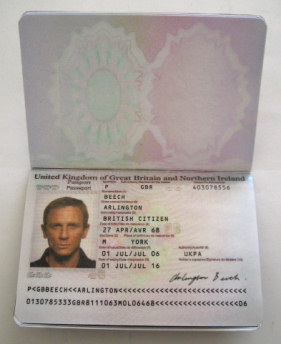 I aslo made a current passport for Bond, using his real details and including several visa stamps covering his travels during Casino Royale (India, Czech Republic, Madagascar, U.S., Bahamas, Montenegro and Italy):