No adventurer would be complete without a good knife. Seen breifly in Raiders of the Lost Ark, Indy's pocket knife is almost used to free Marion from her bonds.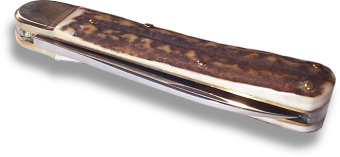 This top quality pocket knife is made in Solingen, Germany, home of some of the world's finest steel. The stainless steel blade measures over three inches (8 cm) and has a Rockwell hardness of 58. The bolsters are nickel-silver and have the same unqiue etched lines as the Raiders' pocket knife. The genuine stag scales (on the handle) give this knife a real old-world appearance while remaining very functional. The overall

length is about 7 1/4" (19 cm), making this knife small enough to wear in a pocket, but large enough to be a practical field knife.