The Holy Grail of Antioch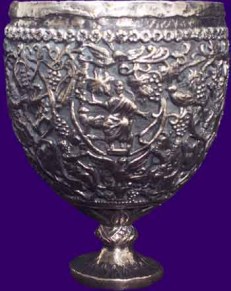 In 1910 archaeologists unearthed this beautiful silver goblet in Antioch. Within the outer shell was a cup of great antiquity, soon believed to be the Holy Grail. This inner cup matches the size, shape and materials from which Jews made their Passover cups, and it is, therefore, quite possible to have been the cup used by Christ during the Last Supper.

The original cup, now in the possession of the Metropolitan Museum of Art had only ever been reproduced once. From this replica, these museum quality pieces have been reproduced out of various precious metals ranging from pewter to solid silver.

This is the only accurate replica of its kind!





(click any image below for a larger photograph)


Fine Pewter Chalice
$1000






Sterling Silver Plate
Pewter Chalice
$1,200





White Bronze Chalice
$1,450





24k Gold Plate

Pewter Chalice

$1,450


Red Bronze Chalice
Price $1,450


Patina Bronze Chalice
$1,550


Sterling Silver Plate

Bronze Chalice

$2,550



24k Gold Plate
Bronze Chalice
$2,950



Please note that prices do not include shipping and handling.
Shipping within the U.S. is $15. International prices will vary.
Feel free to e-mail me for more information.